In this Chirply review, we'll provide you with the information that will help you determine if this is the RIGHT marketing software for your business and…
Chirply Review 2021: Best SMS Marketing Software?
Chirply provides a cost-effective way to manage your digital marketing campaigns. Overall, it makes customer outreach a lot easier to handle and execute.
User Friendly
Chirply's user interface is sleek and intuitive. It's easy to navigate for beginners and experienced users alike.
Features
Chirply has a number of good digital marketing features aside from SMS marketing. Together, these can make your marketing campaigns more holistic.
Support
Chirply provides chat support on the user's dashboard. Its social media arm, however, doesn't do well with customer service. If you need to get in touch with Chirply, it's recommended to contact them directly instead.
Value for Money
Chirply falls on the more expensive price range when compared to similar products. However, its other features may make up for the price if you can maximize their use.
Share this article
Subscribe for updates
In this Chirply review, we'll briefly go through what Chirply is and who it is recommended for. We'll also talk about the notable features that make it a good choice for businesses that need an effective tool for SMS marketing.
What is Chirply?
Chirply is an omnichannel CRM software that allows you to integrate your digital marketing campaigns in various platforms such as SMS, emails, phone calls, and voicemails.
In this context, omnichannel (1) is a term that refers to the multiple ways in which a business can establish relationships with its customers.
Chirply ensures that your digital campaigns in various channels work in unison to fulfill your marketing goals.
Who is Chirply For?
Chirply is highly recommended for small to medium-sized companies. It allows you to amass leads and supervise your sales team. It also allows you to establish stronger customer relationships through various digital marketing channels.
It's a reliable online tool that will work for most types of business. If you're looking for software that can help you with both sales, leads, and inbound and outbound contact, then Chirply can do the job for you.
Chirply Features & Effectiveness
1. Lead Generation
Do you wish to build your leads and contact list? You can integrate platforms and APIs with Chirply to collect your leads from Google Business, Yelp, and other domains. This will help you identify which customers to contact for your campaigns.
Chirply's UI and dashboard puts in one place all autoresponders, contacts, campaigns, lists, phone numbers, etc. so you know exactly what's going on within your account.
2. 2-Way SMS
You may find most people on online messaging platforms nowadays. Still, never underestimate the power of SMS. Chirply has a 2-way SMS feature that gives your business a dedicated number that your customers can reach. Thus, even if they aren't online, they can readily message you when they need to.
3. SMS Auto-responders
In cases where customers simply need general information, SMS auto-responders can answer their queries when they type in specific keywords. If a customer needs any real-time information about your products and services, SMS auto-responders can do the job.
4. 2-Way E-mails
E-mails may not be the quickest way to address a concern, but it's still good to have it. Your customers can always e-mail you when they have questions. You can e-mail them back for the answers as well as send them e-mail campaigns regularly through this feature.
5. 2-Way Phone Calls
Sometimes, customers still prefer phone calls because it adds a human touch to business relationships. With this feature, you can call your leads and you can also receive calls from them.
6. Professional IVRs
IVR stands for Interactive Voice Response (2). It's the automated voice system that gives callers pre-recorded options to reach an answer to a query. A properly-crafted IVR will lead your customer to the right recipient.
7. Ringless Voicemail
As the name suggests, ringless voicemail allows you to send pre-recorded voicemails without being intrusive. These messages go straight to your customers' voicemail inbox so they can listen to it on their own time.
8. Drip Campaigns
A drip campaign (3) is an automated e-mail marketing strategy that sends out e-mails on a set schedule. Customers who opt-in will receive e-mails regularly until the end of a particular campaign. This allows you to save time on manual tasks and minimize errors.
9. Sales Bridge
Chirply helps users create customized solutions for improving sales through a sales bridge. It allows you to effectively use your professional network and establish solid connections with your leads.
Chirply Customer Support
Subscribers can reach Chirply customer support by e-mail or by phone. Their support engineer, meanwhile, is available through the messenger icon.
Chirply Pricing
Chirply pricing comes in 4 tiers: Starter, Silver, Gold, and Platinum. Choose the plan that best supports your business' size and workflows.
Chirply Video Reviews
This Chirply review gives us a brief walkthrough of the software.
User Feedback & Reviews
Final Verdict & Recommendation
I rate Chirply with a rating of 3.87 out of 5.
As you can see on this Chirply review, it serves a great purpose with a few flaws.
If you're looking for a platform that has CRM channels like SMS, e-mails, voicemails, and phone calls, Chirply knows how to get the job done. It also allows you to schedule your campaigns thoughtfully to reach your customers in the best time possible.
Overall, it is worth the price tag because of the convenience and features that it provides. Yes, there are cheaper options out there that offer SMS marketing but only a few of them are omnichannel platforms like Chirply.
Chirply Alternatives
Are you still at the stage where you're exploring other SMS marketing options? Here are 3 other products to consider:
1. AgileCRM
AgileCRM prides itself in helping small businesses automate their processes. They work on e-mail marketing, e-mail tracking, SMS marketing, social media marketing, web engagement, and analytics. Its newest features include push notifications and landing page builders.
They also have a sales CRM automation software to help you close more deals. This includes lead scoring, telephony, appointment setting, and project management. If you think your company needs all the extra features, check out AgileCRM here (4).
2. Sendinblue
Sendinblue is another all-in-one CRM platform that promises to strengthen customer relationships. It has e-mail marketing, SMS marketing, chat, marketing automation, landing pages, signup forms for growing your contact list, market segmentation, and Facebook ads.
It also has real-time stats so you can always stay on top of your campaigns' performances. It even has A/B testing (5) if you wish to test two marketing ideas and determine which one of them produces better stats. If these features seem like a good fit for your needs, visit Sendinblue's website here (6).
3. Omnisend
Omnisend is a CRM platform that's specifically made for e-commerce businesses. Their promise revolves around helping e-commerce shops grow their sales through e-mail and SMS marketing.
Aside from e-mails and text messages, Omnisend also has digital marketing campaigns on other channels. These include push notifications, conversational reminders on Facebook messenger, Google customer match, and Facebook custom audiences. Check out the rest of what Omnisend has to offer here (7).
Frequently Asked Questions
References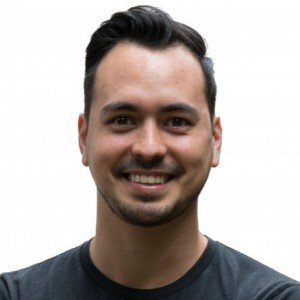 Article by:
Hey I'm Allan, founder of Dotcom Dollar. I started my own successful online business and quit my job in 2015 to travel the world. I started Dotcom Dollar to help aspiring entrepreneurs like you create a successful online business.